Tucson Festival of Films and Native Eyes Film Showcase- MAÏNA
October 8, 2015 @ 7:00 pm

-

9:00 pm

|

$8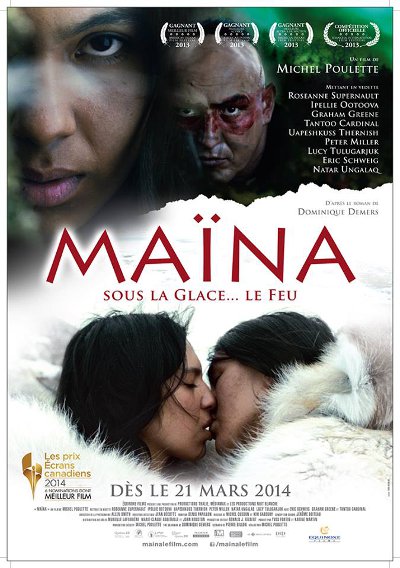 Tucson Festival of Films and Native Eyes Film Showcase present MAÏNA
SOUTHERN ARIZONA PREMIERE
WINNER, 3 AMERICAN INDIAN FILM FESTIVAL AWARDS including BEST FILM, BEST ACTRESS, and BEST SUPPORTING ACTRESS
Follow the journey of young Maïna, an Innu (people of the great waters). The aftermath of a bloody confrontation between the Innu and the Inuit (men from the land of ice), leaves Maïna's best friend dead. Maïna dives into more danger as she promises to retrieve her friend's son who was stolen by the Inuit. A compelling story of culture clashes, loss, love and understanding, this stunning film introduces us to two complex civilizations that founded America.
For the first time in Canadian film history, two indigenous communities, Innu First Nation from Mingan, Quebec and the Kuujjuaq Inuit people financed this film as they saw it as a way to help preserve their language and culture, and present their history in a respectful way.
With Roseanne Supernault, Ipellie Ootoovaa, Graham Greene (The Green Mile), Tantoo Cardinal (Dances with Wolves), Eric Schweig, and Natar Ungalaaq. In Inuktitut with English subtitles.
FESTIVAL EXCLUSIVE
Director Michel Poulette in attendance for post-screening Q&A.
Dir: Michel Poulette  |  Canada  |  Adventure  |  100 min