Krikawa Jewelry Art Gallery
Contact Information
21 E. Congress, Tucson, AZ 85701
520-322-6090
Website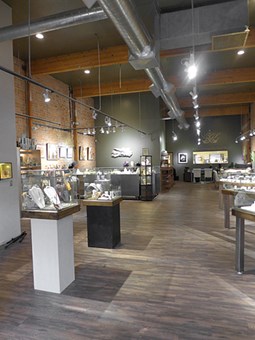 Come visit the new Krikawa Jewelry Art Gallery in the heart of Downtown Tucson. In November 2014, we opened our doors with the exhibition Local Flavors, featuring the work of over thirty local artists. In addition to running an art gallery, we are still the Old Pueblo's go-to, full-service jewelry store and studio!
Design Your Own Wedding Rings
Design Your Own Engagement Rings
Customize Your Diamond Earrings
Customized Family Jewelry
Personalized Monogram Jewelry
Enameled Photo Jewelry
Our jewelry experts are passionate about custom jewelry design and ready to help you with your next project. We have a portfolio of 4000 rings! Check out our jewelry design studio in Tucson, Arizona.  You do not need an appointment to visit, but if you know you want to sit down with a designer and create something unique, an appointment is recommended to make sure someone is available for you.
Remove map overlay
What's nearby
Parking
Cultural Arts
Developments
Dining
Historic Landmarks
Nightlife
Parks and Recreation
Schools
Services
Shopping